Finding God on the Web
Bible | Movies | Hot Topics | Holidays | Humor | Gallery | Sanctuary | Sermons | Prayer | Quizzes | Communities | FAQ




Christians Unite To Save The Planet

The period between April 22, 2005, the 35th anniversary of Earth Day, and the 40th annniversary celebration in 2010 promises to be a fullfilling one for Christians who are concerned about the enviroment. In recent years, Christians of every region of the world and from all denominations, liberal and conservative, Protestant, Catholic, and Orthodox, have become involved as never before in the work of protecting and preserving Creation. Should this trend continue, it could be world changing.

One important sign of this renewed interest within the family of Christ was a recent decision by the National Association of Evangelicals, an organization that represents 30 million Christians in the US, to take a more active role in public adovcacy not only on behalf of those issues traditionally associated with the religious right, but on behalf of the environment. Evangelicals describe it as taking "care for creation."

To be sure, evangelical Christians continue to be anxious about a tendency within the environmental movement to "worship Creation indead of the Creator," as well as what they see as a reliance upon the authority of science rather and scripture. Still, the new emphasis within evangelical communities is remarkable.

A recently approved policy statement of NAE declares:

The Bible teaches us that God is not only redeeming his people, but is also restoring the whole creation (Rom. 8:18-23). Just as we show our love for the Savior by reaching out to the lost, we believe that we show our love for the Creator by caring for his creation. Because clean air, pure water, and adequate resources are crucial to public health and civic order, government has an obligation to protect its citizens from the effects of environmental degradation.

Further, The NAE policy statement lists specific actions that Christians can take to express their concern for Creation, urging their members to:


Practice effective recycling
Conserve resources
Experience the joy of contact with nature

Further NAE urges government to:


Encourage fuel efficiency
Reduce pollution
Encourage sustainable use of natural resources
Provide for the proper care of wildlife and their natural habitats

Not so surprising, perhaps, is a renewed interest on the part of mainline and liberal denominations. The National Council of Churches, which represents 45 million US Christians, has been organizing around the issue for many years. As part of the 35th anniversary celebration of Earth Day, it promoted "Earth Sunday" observances on April 24th in its 100,000 member congregations. The NCC also suggested several steps that Christians could take on behalf of the planet.

Recycle or dispose of trash properly
Every year, millions of pounds of trash degrade habitat and can strangle, poison, or otherwise harm ocean wildlife.


Reduce your energy consumption
Air pollution particles created from power plants and automobiles fall into the ocean in raindrops, polluting the water with excess nitrogen and contaminating fish with toxic mercury.


Reduce the use of pesticides and fertilizers
Runoff from lawns, farms, streets, parking lots, and construction sites is a major source of ocean pollution.


Enjoy Responsible Recreation
Ocean lovers spend a lot of time on, in, and under the water. How you engage in these activities determines whether your impact is negative or positive.


Participate in Public Witness on the local, state, and federal level.

Notice any similarity between these two action lists?

All of this is good news, not only because a renewed effort on the part of people of faith to care for the environment can have important practical consequences, but also because collaborating around such issues may bring Christians of different denominations together in new ways. Ironically, while Christians are reaching out to heal the earth, such renewed contact with the earth may, in fact, bring healing to the community of faith.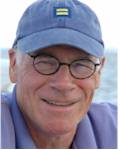 Charles Henderson
Other related and recommended sites you might want to visit:


Please take a moment to let us know you were here!
Use the mail drop to indicate your interest in being included in our free newsletter.
If you want to talk with someone in person, please feel free to call: 917-439-2305
The Rev. Charles P. Henderson is a Presbyterian minister and author of Faith, Science and the Future, published in 1994 by CrossCurrents Press. He is also the author of God and Science (John Knox / Westminster, 1986) which he is now rewriting to incorporate more recent developments in the conversation taking place between scientists and theologians. He has also written widely for such publications as The New York Times, The Nation, Commonweal, The Christian Century and others.