Finding God on the Web
Bible | Movies | Hot Topics | Holidays | Humor | Gallery | Sanctuary | Sermons | Prayer | Quizzes | Communities | FAQ



The Legend of Bagger Vance

I have said elsewhere that movies and movie theaters are the post-modern substitutes for the religion and Gothic cathedrals of the past. (Click here for more.) That point is illustrated once again by Robert Redford's Legend of Bagger Vance, a beautifully photographed film based on the novel by Steven Pressfield. In this movie, which uses the game of golf as a metaphor for life, Redford repeats the formula which he employed so successfully in River Runs Through It, where fly fishing was the metaphorical setting for a parable of redemption.

Redford understands what he is up to, and how to avoid the minefields that might lie in his path. Rather than speaking of movies as a substitute for religion, he frames his purpose in far less provocative terms. "When I was young, mythology was huge for me - larger-than-life characters in bigger-than-life situations," he is quoted as saying on the film maker's website. It's hard to imagine religious viewers objecting to a film maker who purports to be engaged in myth making. After all, few people who are committed to any of the major faith traditions acknowledge that their own faith tradition has much in common with myth. Myth is what others believe; one's own faith is truth.

Still, it would be a good idea if people who are concerned about the health and vitality of a particular faith tradition followed very intently what Redford is up to. He continues: "It's the classic journey of a hero who falls into darkness through some disconnect with his soul, and then of his coming back into the light with the help of a spiritual guide. It also had a very strong love story, which is the best way to show the hero's coming back to life. Lastly, it had a challenge, a great contest. In the mythological sense, there finally has to come that 'slaying of the dragon' scene, and in this case it's an extraordinary golf match. You put all that together and you have a solid foundation to tell a really good story."

As he has done in several prior films, Redford cast as his male lead an actor who strongly resembles the young Robert Redford. In this case, Matt Damon was given the Redford like lead. Clearly Damon not only looks the part, he understands the significance of the undertaking. After reading the script, Damon commented. "This is a story of redemption." Redford cast Charlize Theron as the female lead. She too connected with the major themes of the script in a deeply personal way, seeing the struggle of her character, Adele Invergordon, as the mirror image of that of her own mother, who fought to hold the family construction business in South Africa together following the death of her father.

But the star of this film actually turns out to be Will Smith, whom Redford chose to play the part of the title character, Bagger Vance. The choice of Smith might strike some critics as curious. But Redford explains: "When you're dealing with someone who is a spiritual guide, how are you going to present that character? Are you going to have him coming in on a moonbeam or go for something else? I chose a different route, which I felt was more interesting both visually and from a storytelling standpoint - that of a 'coyote trickster.' The 'coyote trickster' means you're never really going to know what this character's up to - the very person who is going to describe the mysteries of life to you is himself a mystery. I thought that was great stuff. And for me, Will Smith was the perfect person to play that character."

Again Redford chooses to describe Bagger Vance using terminology that will be less threatening to persons of major faith traditions. After all, few Catholics, Protestants, Muslims or Jews are going to object to a movie in which an African American plays the "coyote trickster." Or even "spiritual guide." But how about Savior or Messiah? And that is exactly what the Will Smith character is in this movie. Likewise, who would object to a "coyote trickster appearing in the form of a caddy in a golf tournament. But how about the Christ figure appearing in that role? And that too, is what the Bagger Vance character represents.

Inside each and every one of us is our one true, authentic swing. Something we was born with. Something that is ours and ours alone. Something that can't be learned ... something that got to be remembered. -- Bagger Vance

The overwhelming majority of movie reviews written from a religious perspective focus on issues like the amount of sex, violence, or profanity in a particular film. Or the way in which religion is treated. This film, in which neither religion or God are even mentioned, and which does not have large amounts of either sex or violence, may not even appear on the radar screen of such reviewers. This is a big mistake. Ironically, those who review movies, television shows, or computer games for their religiously committed readers are as mesmerized by violence and sex as the film makers and television producers whom they criticize. By focusing on these topics, such reviewers are missing the big picture. Which is that spirituality is moving out of churches, synagogues and mosques and into movie theatres, television networks and computers.

What really matters is not the amount of either sex or violence in a particular film, but the messages and meanings that are communicated. And whether a particular message has sufficient power as good story to capture and hold the attention of an audience. The stories that capture and hold your attention are the ones that shape your life. This the founders of all the world's great religions understood very well. People are not influenced by being preached at, lectured to, or coerced into prescribed patterns of behavior. People are motivated by powerful stories that convey a sense that their own lives have meaning. Better yet is a moving story that also contains clues about specific actions that the listener might take, leading to some greatly desirable result: like happiness or a sense of well being.

One of the reasons I like this film is that it conveys something that Christian mystics, Buddhist masters, and spiritual guides from other faith traditions have understood for thousands of years. Becoming the person you are meant to be involves the sometimes ironic and painful process of letting go of the ego and its needs, dying to the self, so as to enter a deeper relationship with the world, with other people, and ultimately with God.

For Christians, it is Jesus Christ who leads one along this path. For Buddhists, it is the Buddha. For the Matt Damon character in this movie, it is Bagger Vance. Taking this journey, as this movie makes clear, involves certain "habits of the heart" which religious practitioners refer to as spiritual discipline. In Buddhist meditation it is called "attention." In the Legend of Bagger Vance this is what Matt Damon learns. And Robert Redford, who evidently has studied Buddhism, portrays the process vividly. Using an imaginative combination of zoom lenses, camera angels, and shifts in perspective, the film makers are able to convey the difference between being distracted by one's surroundings and attending to them. Bagger Vance refers to it as "being in the field." In this important distinction lies the difference between being trapped by ego (sin) and being liberated (born again/saved/redeemed). The result for Matt Damon, is not just victory in a golf match, it is victory over the demons that had taken possession of himself.

Being able to tell a moving story that captures and holds one's attention, ... this is what gives any communicator power, whether within the traditional media of religion or the new media of television, film and the computer. Unless the leaders of organized religions remember this lesson that their founders understood so well, the great news story of the twenty-first century will be the continuing migration of humanity's spiritual life from the world of organized religion, and its institutions, to the commercial world of the new media. If you think that a giant corporation like Dreamworks, Disney or Time/Warner can be trusted as the caretaker of your soul more than, say, the Roman Catholic Church or the Society of Friends, then this may constitute good news. If you believe, on the other hand, that the world's great faith traditions are better served by institutions whose sole purpose is to nurture the spiritual life, then what is happening in popular culture may be a cause for alarm.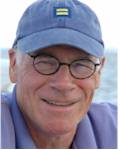 Charles Henderson
Other related and recommended sites you might want to visit:


Please take a moment to let us know you were here!
Use the mail drop to indicate your interest in being included in our free newsletter.
If you want to talk with someone in person, please feel free to call: 917-439-2305
The Rev. Charles P. Henderson is a Presbyterian minister and author of Faith, Science and the Future, published in 1994 by CrossCurrents Press. He is also the author of God and Science (John Knox / Westminster, 1986) which he is now rewriting to incorporate more recent developments in the conversation taking place between scientists and theologians. He has also written widely for such publications as The New York Times, The Nation, Commonweal, The Christian Century and others.