Finding God on the Web
Bible | Movies | Hot Topics | Holidays | Humor | Gallery | Sanctuary | Sermons | Prayer | Quizzes | Communities | FAQ



What About Burial At Sea?The service for burial at sea or in nature is similar to a committal service. In practice, this service implies cremation. Members of the immediate family and close friends of the deceased gather on the deck of a ship, for example, or on the beach, or other appropriate location.

After a brief opening prayer and the reading of scripture, as the ashes are scattered upon the water, the minister says the following prayer:

In sure and certain hope of the resurrection into eternal life,
through our Lord Jesus Christ,
we commend to almighty God our brother/sister (Name),
and we commit his/her body to the sea,
earch to earth, ashes to ashes, dust to dust.

Blessed are the dead who die in the Lord,
They rest from their labors,
and their works follow them.

Then follows a prayer, a blessing and benediction.

Additional readings and appropriate music could be added so that this service could substitute for a funeral in a church.

For more on planning a funeral or memorial service.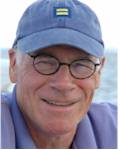 Charles Henderson
Other related and recommended sites you might want to visit:


Please take a moment to let us know you were here!
Use the mail drop to indicate your interest in being included in our free newsletter.
If you want to talk with someone in person, please feel free to call: 917-439-2305
The Rev. Charles P. Henderson is a Presbyterian minister and author of Faith, Science and the Future, published in 1994 by CrossCurrents Press. He is also the author of God and Science (John Knox / Westminster, 1986) which he is now rewriting to incorporate more recent developments in the conversation taking place between scientists and theologians. He has also written widely for such publications as The New York Times, The Nation, Commonweal, The Christian Century and others.