Finding God on the Web
Bible | Movies | Hot Topics | Holidays | Humor | Gallery | Sanctuary | Sermons | Prayer | Quizzes | Communities | FAQ



George Bush Is A Saint

All Things Being Relative

President George W. Bush was scheduled to visit the Methodist Church outside Washington as part of his last campaign. Karl Rove made a visit to the Bishop and said to him, "We've been getting a lot of bad publicity among Methodists because of Bush's position on stem cell research, the war, and such. I'll gladly make a contribution to the church of $100,000 if during your sermon, you'd say the President is a saint."

The Bishop thinks it over for a few moments and says, "The Church is in desperate need of funds. I will do it."

Bush shows up that following Sunday, looking especially pleased, posing for his photo ops, while strutting his way, cowboy-style, into the church.

As the sermon starts, the Bishop begins his sermon: "George Bush is a petty, self-absorbed hypocrite as well as a nitwit. He is a liar, a cheat, probably still a drunk, and a low-intelligence sneaky weasel. He has lied about his military record, and then had the gall to put himself in uniform on a military jet, landing on a carrier, and then posing before a banner stating 'Mission Accomplished.' He invaded a country for oil and money, all the while lying to the American people about the war, with nary a care for the thousands of lives it has taken and continues to take. He is the worst example of a Methodist I've ever personally known or known of. But compared to Dick Cheney, George Bush is a saint."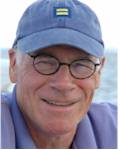 Charles Henderson
Other related and recommended sites you might want to visit:


Please take a moment to let us know you were here!
Use the mail drop to indicate your interest in being included in our free newsletter.
If you want to talk with someone in person, please feel free to call: 917-439-2305
The Rev. Charles P. Henderson is a Presbyterian minister and author of Faith, Science and the Future, published in 1994 by CrossCurrents Press. He is also the author of God and Science (John Knox / Westminster, 1986) which he is now rewriting to incorporate more recent developments in the conversation taking place between scientists and theologians. He has also written widely for such publications as The New York Times, The Nation, Commonweal, The Christian Century and others.