Sponsored Link



What is the Date and Meaning of Mother's Day 2019?
As well as poetry, quotations, readings and thoughts for the day

Different countries celebrate Mother's Day on different dates because the day has a number of different origins. One school of thought claims this day emerged from a custom of mother worship in ancient Greece. Mother worship was held on or near the Vernal Equinox in Asia Minor and eventually in Rome from the Ides of March (March 15) to March 18. The Romans also had another holiday, Matronalia, that was dedicated to Juno; mothers were often given gifts on this day.

In the United States, Mother's Day was introcuced by social activist Julia Ward Howe after the American Civil War with a call to unite women against war. Given these origins, one might well ask whether it is appropriate to celebrate Mother's Day in church. Or, putting it another way, "Is Mother's Day a Christian holiday?" Here is a strong case for it's inclusion in any Christian's calendar: Mother's Day as a Christian Holiday.

The second Sunday of May will fall on the following dates in the next few years:

2019 - May 12

2020 - May 10


Mother's Day Prayer, poetry, thoughts and quotations:

God our Creator, we pray:
for new mothers, coming to terms with new responsibility ;
for expectant mothers, wondering and waiting;
for those who are tired, stressed or depressed;
for those who struggle to balance the tasks of work and family;
for those who are unable to feed their children due to poverty;
for those whose children have physical, mental or emotional disabilities;
for those who have children they do not want;
for those who raise children on their own;
for those who have lost a child;
for those who care for the children of others;
for those whose children have left home;
and for those whose desire to be a mother has not been fulfilled.
Bless all mothers, that their love may be deep and tender,
and that they may lead their children to know and do what is good,
living not for themselves alone, but for God and for others.
Amen.

Loving God,
we thank you for the love of the mothers you have given us,
whose love is so precious that it can never be measured,
whose patience seems to have no end.
May we see your loving hand behind them and guiding them.
We pray for those mothers who fear they will run out of love
or time, or patience.
We ask you to bless them with your own special love.
We ask this in the name of Jesus, our brother.
Amen.

Gracious God,
We thank you for adopting us into your family through the miracle of
your grace, and for calling us to be brothers and sisters to each other.
Today, loving God, we pray for our mothers:
who cared for us when we were helpless
who comforted us when we were hurt
whose love and care we often took for granted.

Today we pray for:
those who are grieving the loss of their mother,
those who never knew their biological mother, and now yearn for her

those who have experienced the wonder of an adopted mother's love

the families separated by war or conflict.
Lord, give them special blessings.

Keep us united with you and with each other, so that we can be and become all that we are meant to be. Amen.
Thank You For Being My Friend

Thank you for believing in me
when I found it difficult
to believe in myself...
for saying what I've needed to hear sometimes,
instead of what I've wanted to hear...
for siding with me...
and for giving me another side to consider.
Thank you for opening yourself up to me...
for trusting me with your thoughts
and disappointments and dreams...
for knowing you can depend on me
and for asking my help when you've needed it.
Thank you for putting so much
thought and care and imagination
into our friendship...
for sharing so many nice times
and making so many special memories with me.
Thank you for always being honest with me
being kind to me...being there for me.
Thank you for being
a friend to me
in so many meaningful ways.
--Larry S. Chengges
Books About Prayer and/or Meditation
Current and best selling books about prayer, meditation or spirituality that you might want to add to your library

More About Mothersday
Will the real Mother's Day Please Stand Up?
Many people see Mother's Day as a secular holiday, designed by the greeting card industry, promoted by restaurants, beloved by florists. Some clergy agree, objecting to the commercialism of the holiday. Does Mother's Day have religious meaning? If so what is it? Just consider the witness of its founder, Anna Jarvis.
For a fuller discussion of Mother's Day, its founders, and its deep Christian significance, see: No Greater Love, A Mother's Day Meditation.
Theological Reflection:
Thoughts About Motherhood
The heart of a mother is a deep abyss
at the bottom of which you will always
find forgiveness.
--Honore' de Balzac
The mother's heart is the child's schoolroom.
--Henry Ward Beecher
Youth fades; love droops,
the leaves of friendship fall;
A mother's secret hope outlives them all.
--Oliver Wendell Holmes
The joys of motherhood
are never fully experienced
until the children are in bed.
--Author Unknown.
Becoming a mother makes you the mother of all children. From now on each wounded, abandoned, frightened child is yours. You live in the suffering mothers of every race and creed and weep with them. You long to comfort all who are desolate.
--Charlotte Gray

A mother's yearning feels the presence of the cherished child even in the degraded man.
--George Eliot

Women know the way to rear up children (to be just). They know a simple, merry, tender knack of tying sashes, fitting baby-shoes, and stringing pretty words that make no sense. And kissing full sense into empty words.
--Elizabeth Barrett Browning

Making the decision to have a child is momentous. It is to decide forever to have your heart go walking around outside your body.
--Elizabeth Stone

A mother is the truest friend we have, when trials, heavy and sudden, fall upon us; when adversity takes the place of prosperity; when friends who rejoice with us in our sunshine, desert us when troubles thicken around us, still will she cling to us, and endeavor by her kind precepts and counsels to dissipate the clouds of darkness, and cause peace to return to our hearts.
--Washington Irving

All that I am or ever hope to be, I owe to my angel Mother.
--Abraham Lincoln

My mother was the most beautiful woman I ever saw. All I am I owe to my mother. I attribute all my success in life to the moral, intellectual and physical education I received from her.
--George Washington

A mother is not a person to lean on, but a person to make leaning unnecessary.
--Dorothy Canfield Fisher

At work, you think of the children you have left at home. At home, you think of the work you've left unfinished. Such a struggle is unleashed within yourself. Your heart is rent.
--Golda Meir

Few misfortunes can befall a boy which brings worse consequences than to have a really affectionate mother.
--W. Somerset Maugham

Biological possibility and desire are not the same as biological need. Women have childbearing equipment. For them to choose not to use the equipment is no more blocking what is instinctive than it is for a man who, muscles or no, chooses not to be a weightlifter.
--Betty Rollin

Women do not have to sacrifice personhood if they are mothers. They do not have to sacrifice motherhood in order to be persons. Liberation was meant to expand women's opportunities, not to limit them. The self-esteem that has been found in new pursuits can also be found in mothering.
--Elaine Heffner

Whatever else is unsure in this stinking dunghill of a world a mother's love is not.
--James Joyce

All that remains to the mother in modern consumer society is the role of scapegoat; psychoanalysis uses huge amounts of money and time to persuade analysis and to foist their problems on to the absent mother, who has no opportunity to utter a word in her own defense. Hostility to the mother in our societies is an index of mental health.
--Germaine Greer

All women become like their mothers. That is their tragedy. No man does. That's his.
--Oscar Wilde

The moment a child is born, the mother is also born. She never existed before. The woman existed, but the mother, never. A mother is something absolutely new.
--Rajneesh

A suburban mother's role is to deliver children obstetrically once, and by car forever after.
--Peter De Vries

It kills you to see them grow up. But I guess it would kill you quicker if they didn't.
--Barbara Kingsolver

God could not be everywhere and therefore he made mothers.
-- Jewish proverb

I remember my mother's prayers and they have always followed me. They have clung to me all my life.
--Abraham Lincoln

If the whole world were put into one scale, and my mother in the other, the whole world would kick the beam.
--Henry Bickersteth

There is only one pretty child in the world, and every mother has it.
--Chinese Proverb

The heart of a mother is a deep abyss at the bottom of which you will always find forgiveness.
--Honore' de Balzac

Mama exhorted her children at every opportunity to 'jump at de sun.' We might not land on the sun, but at least we would get off the ground.
--Zora Neale Hurston

A mother is a person who seeing there are only four pieces of pie for five people, promptly announces she never did care for pie.
--Tenneva Jordan

A man loves his sweetheart the most, his wife the best, but his mother the longest.
--Irish Proverb

Maternity is on the face of it an unsociable experience. The selfishness that a woman has learned to stifle or to dissemble where she alone is concerned, blooms freely and unashamed on behalf of her offspring.
--Emily James Putnam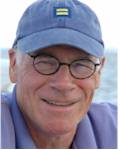 Charles Henderson
Please take a moment to let us know you were here!
Just send us an email to
If you want to talk with someone in person, please feel free to call 917-439-2305

The Rev. Charles P. Henderson is a Presbyterian minister and is the author of God and Science (John Knox Press, 1986).
A revised and expanded version of the book is appearing here.
God and Science (Hypertext Edition, 2015).
He is also editor of a new book, featuring articles by world class scientists and theologians, and illustrating the leading views on the relationship between science and religion:
Faith, Science and the Future (CrossCurrents Press, 2017).
Charles also tracks the boundry between the virtual and the real at his blog: Next World Design, focusing on the mediation of art, science and spirituality in the metaverse.
For more information about Charles Henderson.
Sponsored Link